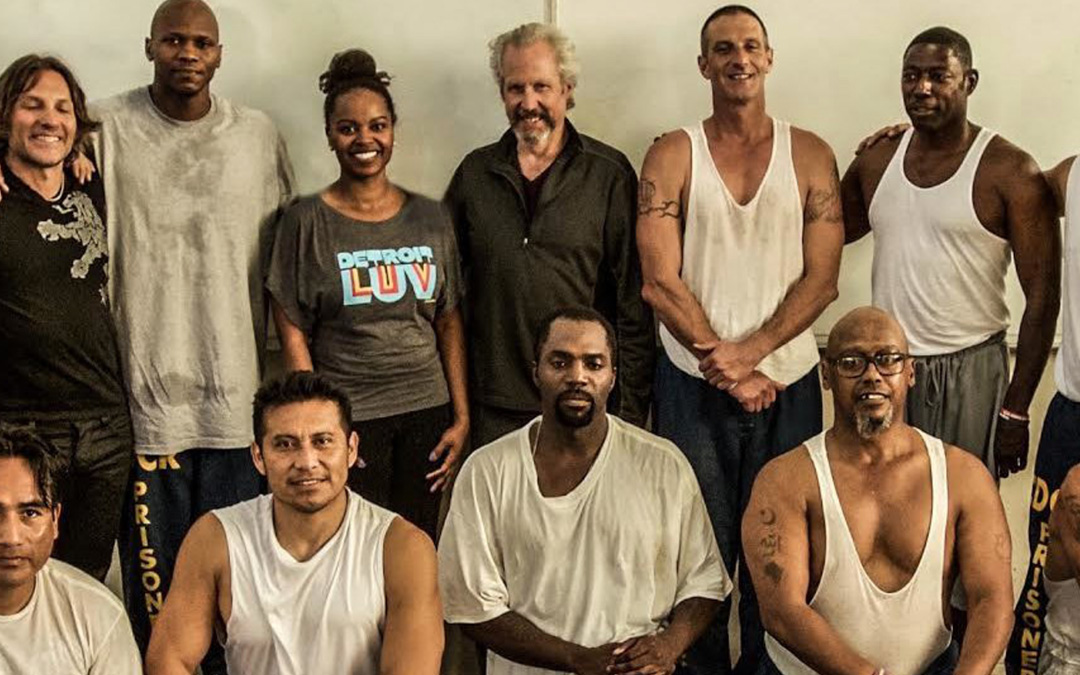 Why I Teach Yoga in San Quentin
by Chanda Williams
Yesterday I was locked up in San Quentin.
It wasn't permanent. I was there teaching yoga.
I heard the alarm sound about fifteen minutes into the start of our yoga practice. I asked the men if there was anything we needed to do and they told me that as long as we were in the room, we were ok. It's not unusual for the alarm to go off. It has happened while I taught there before.
However, for the last few Tuesdays, I've been covering this class for the primary teacher since he was away teaching yoga workshops. I'm not as familiar with this group as I am with the other two classes that the Prison Yoga Project offers at San Quentin. In this particular section of San Quentin (there are several different types of prisons within it), the men are to be released soon. Many of them have dates to be paroled within a few months. They are coming close to the end of their sentences.
Our yoga practice was balanced between strong, assertive poses and more restorative, receptive poses. We flowed into balance in Tree pose (Vrikshasana) to Warrior III (Virabhadrasana) transitioning to Downward Facing Dog (Adho mukha śvānāsana) to Child's Pose (Bālāsana) to reconnect to our breath and our shared intention to pay attention to our bodies, breath, minds and hearts. We did variations in Side Plank (Vasisthasana) and wove a few vinyasas through some of the practice.
I shared with them that tomorrow is the Winter Solstice (and my birthday, so I joked that this yoga practice counted as my birthday party too). Most of them did not know about the solstices and the equinoxes that take place over the year. Before the birth of the world's major religions, people recognized the Winter Solstice as a powerful and potent time of the year. It marks the return of the light. Not only the light of the sun, but the light within each of us that can become dimmed by the cold, harshness of life. We can acknowledge and welcome the return of our inner light when we can clearly see our errors and then set the intention to reflect our light into the world, resulting in peace within ourselves, our communities and throughout our precious planet.
Prior to beginning class, I collect their ID cards and turn them into the office so that one of the guards can complete an "inmate count". I return at the end of class to pick them up and distribute them to the men. Well, yesterday, I noticed the yard was eerily silent. Usually, the men are exercising on the yard or walking to work or to classes, but there was no one in sight. When I arrived, I didn't receive the cards but got a different set of instructions.
Me: "Hi there, I'm the yoga teacher with the guys in the chapel. I'm here to pick up their ID cards."
Guard: "The count hasn't cleared. Stay put."
Me: "I'll let the guys know that they should stay there and I'll head out. "
Guard: "No, you and them stay put."
Okey dokey.
I went back to the chapel and informed the guys of our status. Apparently, this happens pretty frequently. Without knowing how long we were going to be together, we talked.
One of the guys is a distinguished looking Black man with a very white beard. The guys were teasing him earlier at the start of class calling him "Bad Santa". While we waited together, I asked him when was he getting out.
Lester: "I'll be out in 6 months. I think I'll cut this beard so I won't frighten my family when they see me. I don't want them thinking I'm a wild man!"
Me: "l think they'll be so excited to see you that it won't matter if you have a beard or not."
Lester: "Well, I've been in here for 45 years, actually it will be 46 by the time I leave. They won't even recognize me."
Me: (speechless)
Lester: "Yes, I know that's shocking right? Yep, it's been 45 years. I bet you weren't even born yet when I came in here."
Me: "No, I wasn't."
Consider how much your life and the world have changed in the last 10 years, let alone 45!! But maybe, like me, you weren't even born. It was in that moment that I could clearly see why I teach yoga at San Quentin. People often ask me why I teach in prison and I respond with facts about prison reform, the school to prison pipeline, and how programs like the Prison Yoga Project help reduce recidivism. I talk about how we use a trauma-informed approach in our classes that help the men (women and youth too — PYP is in jails, prisons and juvenile facilities throughout the world) learn how to discharge the stress that may cause them to react aggressively or even violently in stressful situations– the same behavior that, in many cases, resulted in them ending up at San Quentin. I talk about how systemic poverty, racism and lack of access to education and health care (especially mental health care) results in many young men and women of color ending up incarcerated at some point in their lives. I talk about the outcomes that we hope for and expect for the participants in the program.
But yesterday, when I was speaking with Lester, I realized that I teach yoga at San Quentin for men like him. I don't know his background. I don't know what he did to end up serving 46 years in prison. But I do know that when he leaves San Quentin, he will enter a completely different world than the one he left. I'd imagine many of his family members have passed away and many of them won't know him since they were born after he was imprisoned. The world is faster and bigger. It's a world filled with challenges, loss and suffering, as well as beauty, miracles and joy. It can be a very scary and overwhelming place.
A few minutes later, a guard came to let us know that the alarm was cleared and that I was free to go. Of course the men had to stay. Yet despite some of the concern caused by the "lock down", I was grateful to have had that extra time to just "be" with Lester.
I hope for Lester and all the men that participate in the PYP that they are able to take their practice off the mat and use it to skillfully meet whatever awaits them when they leave the chapel, as well as when they leave San Quentin. I hope that they are able to breathe deeply, feel their emotions and respond appropriately, from a place of understanding and compassion for themselves and each other.
This Winter Solstice, after making a chocolate cake with my daughter Eva to celebrate my birthday and going to Fairyland (somehow she co-opted my birthday), I will take some time alone to sit and reflect. To consider this year and what may lie ahead. I'll let go of the past and make an intention to show up, authentically, reflecting more of my inner light in 2018.
Happy Hanukkah, Happy Winter Solstice, Happy Christmas, Happy Kwanzaa and Happy New Year!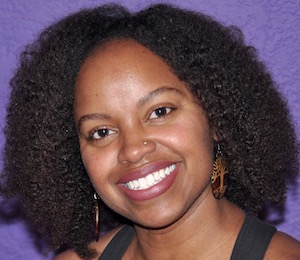 Chanda Williams has practiced yoga for over two decades and has taught for over thirteen years. As a wellness professional, she has developed health promotion programs that have positively impacted the lives of thousands of people. Chanda's classes are focused on alignment informed by her students' particular needs. A former mechanical engineer, she has a deep love for body mechanics, anatomy and physiology and an even deeper love for sharing the healing practice of therapeutic yoga with others. With compassion and care, Chanda provides a safe space for students to explore the strength of their bodies, the power of their breath and the sacredness of their hearts. She is a Vipassana meditation practitioner and infuses her classes with mindfulness to support students in cultivating greater skill in navigating everyday life. She holds several certifications to teach a variety of styles of yoga to diverse groups including Hatha, Vinyasa, Pre/ Postnatal, Kids and Seniors. She volunteers at San Quentin teaching yoga through the Prison Yoga Project. She has written for several publications and is completing her memoir, Afterbirth, that describes her journey to reclaiming herself through motherhood.
Chanda experiences her greatest joy through her daughter, Eva-Maria, and when not exploring the world through Eva's eyes, provides private yoga instruction and group classes in Oakland, Berkeley and through the tunnel in Lafayette and Walnut Creek. She also offers a specialized yoga for health program for people with serious, chronic disease, including cancer, to increase energy and enhance the body's immune response facilitated by the use of mindful movement, breathing exercises, good nutrition and support.
[email protected]
www.rickyfishman.com